Harry Verhaar, Head of Global Public & Government Affairs and a Vice President at Signify was nominated the CLG Europe chair in February 2020. In his role as chair, Harry advises on the strategic development of CLG Europe and helps to represent the interests and concerns of the group's business leaders.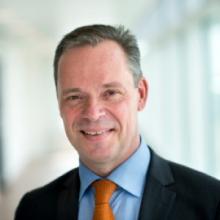 With over 20 years of experience in the lighting industry, Harry Verhaar is responsible for the strategy, outreach and stakeholder management on energy & climate change, resource efficiency and sustainable development at Signify, with a key focus on the role of the LED lighting revolution. He is also the chairman of the Signify Foundation. Since the end of 2003, Harry has been the architect of the Signify strategy on energy and climate change, which has resulted in a global momentum on phasing out of old lighting technologies.
He is an active member of a number of partnership and stakeholder networks, among which The Climate Group; Regions20 and the World Green Building Council, the World Council on City Data, UNESCO's International Day of Light and of the UN Environment Science Business Policy governing consortium. He is responsible for Signify's relationship with the World Economic Forum, the UN and the World Bank and is a founding member of UN Environment's en.lighten program and the SE4All's Global Energy Efficiency Accelerator Platform. He is chairman of the European Alliance to Save Energy and is a former president and co-founder of the Global Off-Grid Lighting Association.
Harry is a recipient of the 2011 UN Leader of Change Award, and has received the Carbon War Room's Gigaton award on behalf of Philips at COP17 in Durban. In May 2015 he received the Energy Efficiency Visionary Award from the Alliance to Save Energy in Washington DC. He holds a MSc in Solid State Luminescence from the University of Utrecht, The Netherlands.
On his appointment as CLG Europe Chair, Harry said:
"I am honoured to have been entrusted by the members to serve as the chair of CLG Europe. As Europe embarks on an ambitious journey towards climate neutrality, collaboration will be key to unlocking the creativity needed to drive low carbon innovation, job creation and build resilience in support of the health and well-being of Europe's citizens. By working together through a cross-sectoral group like CLG Europe, leading businesses can contribute to the common good and spearhead the low-carbon transition. CLG Europe is committed to supporting EU leaders to deliver a European Green Deal that that cuts emissions and acts as the new growth and prosperity strategy for the EU."
---
Learn more about the work of CLG Europe