Colin Matthews, non-executive Chairman of EDF Energy and Peter Simpson, Chief Executive of Anglian Water Group were nominated co-chairs of the UK Corporate Leaders Group (CLG UK) in January 2022. In their roles as co-chairs, Colin and Peter advise on the strategic development of CLG UK and help to represent the interests and concerns of the group's business leaders.
Colin Matthews, CBE FREng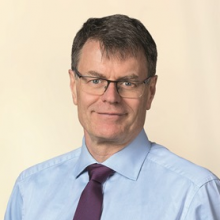 Colin is Non-Executive Chairman of EDF in the UK, part of EDF Group, having been appointed in November 2017. Colin served as Chair of Highways England from December 2014 to May 2020 and, prior to that, as Chair of the Highways Agency from July 2014. He was Chief Executive of Heathrow Airport (formerly BAA) from 2008 until 2014, and previously served as Non-Executive Chairman of Renewi PLC, a leading waste management firm. He has led a number of service and industrial businesses spending his early career with Lucas Girling, Bain & Co and GE (USA) in Japan, France, Canada and UK. He then joined British Airways, where he served as Engineering Director. He joined Lattice Group as Transco Group Managing Director before his appointment as CEO of Hays PLC then CEO of Severn Trent PLC, both the FTSE100 services businesses. He has also served as a non-executive director of Mondi PLC the international paper company and Johnson Matthey PLC, the international chemistry company. Colin was appointed Co-Chair of the UK Corporate Leaders Group (CLG UK) in February 2020. Colin advises on the strategic development of CLG UK which brings together the voice of British business in support of ambitious action on climate change. A chartered engineer, he graduated from Cambridge University and holds an MBA from INSEAD.
On his appointment as CLG UK co-Chair, Colin said:
"Businesses will be at the centre of the UK's journey to net zero. Representing many important sectors, the UK Corporate Leaders Group brings together the expertise and opportunity to deliver a climate change agenda addressing challenges across the economy. I am proud to be co-chairing the CLG UK as businesses step up to inspire and accelerate the transition to a thriving and inclusive net zero future."
Peter Simpson, Chief Executive of Anglian Water Group
Peter has been Chief Executive of Anglian Water Group since October 2013; his previous roles include Managing Director of Anglian Water from January 2010 and Chief Operating Officer from 2004. After completing an MSc in Analytical Chemistry at the University of East Anglia, Peter joined Anglian Water as one of its first graduate management trainees. Since then he has remained with the company, with spells working in America, Europe and Asia.
As a founding member, and now co-chair, of the UK Corporate Leaders Group, he has championed business action on climate change over many years. He is also an active supporter of Business in the Community (BiTC), which focuses on the positive difference business can make to communities. He currently Chairs BiTC's East of England Leadership Team and is a Trustee of the international water charity WaterAid. He is a Past President of the Institute of Water and a former Chair of Water UK.
Peter holds an MBA from Warwick Business School and is a Chartered Water and Environmental Manager, a Chartered Scientist and a Chartered Environmentalist.  He is an Honorary Fellow of the Society of the Environment and an Honorary Fellow of the Chartered Institution of Water and Environmental Management.  
On his reappointment as CLG UK co-Chair, Peter said:
"I am proud to co-chair the UK Corporate Leaders Group, which has been instrumental in raising ambition in business and helping to shape climate policy frameworks over many years. 
"The business community has a vital role to play in delivering a just transition to a net zero society. The most progressive companies, including the members of CLG UK, are already leading the way with transformative climate action that is accelerating progress towards a more sustainable future. 
"Building on the momentum of COP26 – a pivotal moment for governments, businesses and citizens around the world – we will continue to demonstrate climate leadership from the UK business community and provide a constructive voice to government."