12 September 2018 – The Paris Agreement is a historic landmark for both international diplomacy and action on climate change. The Agreement sets out an ambition, and a framework, to limit climate change and global temperature rise to well below 2°C, with efforts to limit this to 1.5 °C. To be Paris compliant, and to have any hope of limiting temperature rise to 1.5 °C, it is clear from the latest science that global emissions must now fall to net-zero as early as possible in the second half of this century. For developed economies such as the EU's, whose leadership is essential in this, the achievement of net zero emissions must therefore be by 2050 at the latest.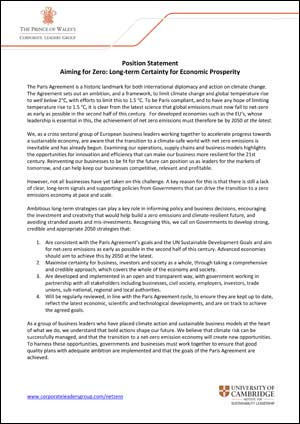 In this position statement the Corporate Leaders Group call on Governments to develop strong, credible and appropriate 2050 strategies that:
Are consistent with the Paris Agreement's goals and the UN Sustainable Development Goals and aim for net-zero emissions as early as possible in the second half of this century. Advanced economies should aim to achieve this by 2050 at the latest.
Maximise certainty for business, investors and society as a whole, through taking a comprehensive and credible approach, which covers the whole of the economy and society.
Are developed and implemented in an open and transparent way, with government working in partnership with all stakeholders including businesses, civil society, employers, investors, trade unions, sub-national, regional and local authorities.
Will be regularly reviewed, in line with the Paris Agreement cycle, to ensure they are kept up to date, reflect the latest economic, scientific and technological developments, and are on track to achieve the agreed goals.