January 2019 – The United Kingdom (UK) Climate Change Act received royal assent on 26 November 2008, creating a legal architecture for British climate action that was unprecedented in its scope, scale and ambition. The UK Climate Change Act has since been emulated by many other countries. This briefing looks at what has changed in the ten years since the UK Climate Change Act was passed.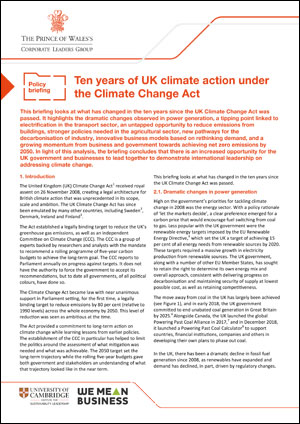 This briefing highlights the dramatic changes observed in power generation, a tipping point linked to electrification in the transport sector, an untapped opportunity to reduce emissions from buildings, stronger policies needed in the agricultural sector, new pathways for the decarbonisation of industry, innovative business models based on rethinking demand, and a growing momentum from business and government towards achieving net zero emissions by 2050. In light of this analysis, the briefing concludes that there is an increased opportunity for the UK government and businesses to lead together to demonstrate international leadership on addressing climate change.
Citing this briefing
Please refer to this publication as University of Cambridge Institute for Sustainability Leadership (CISL). (2019). Ten years of UK climate action under the Climate Change Act, Cambridge, UK: The Prince of Wales's Corporate Leaders Group.