May 31 2019 – More than 120 leading UK businesses, investors and business networks, including the CBI, Anglian Water, John Lewis Partnership, BT, Aviva, Arup, Coca-Cola and Kingfisher, are calling on the UK Government to put climate neutrality by 2050 into legislation immediately.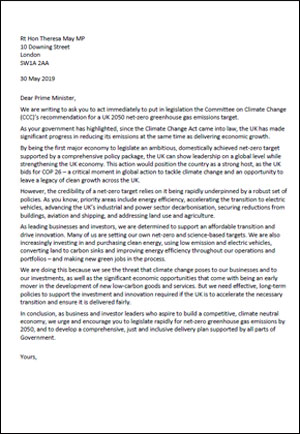 In an open letter, CEOs from across the economy are urging the UK to accept the recommendations of the Committee on Climate Change and lead the way by becoming the first major economy to legislate for an ambitious, domestic decarbonisation target that delivers net zero by 2050 at the latest.
The letter, signed by 128 businesses, investors and business networks, states: 'As leading businesses and investors, we are determined to support an affordable transition and drive innovation. Many of us are setting our own net-zero and science-based targets. We are also increasingly investing in and purchasing clean energy, using low emission and electric vehicles, converting land to carbon sinks and improving energy efficiency throughout our operations and portfolios – and making new green jobs in the process.
'We are doing this because we see the threat that climate change poses to our businesses and to our investments, as well as the significant economic opportunities that come with being an early mover in the development of new low-carbon goods and services. But we need effective, long-term policies to support the investment and innovation required if the UK is to accelerate the necessary transition and ensure it is delivered fairly.' 
The signatories come from both multi-national and national businesses, across industry sectors, including energy, finance, consumer goods, retail, construction, water and communication.
The business and investment networks supporting this initiative include the CBI, The Prince of Wales's Corporate Leaders Group (CLG), the Aldersgate Group, and the Institutional Investors Group on Climate Change (IIGCC), representing more than 190,000 businesses, more than 7 million workers, and more than £20trillion in assets under management.
The signatories acknowledge the urgency of the climate crisis, calling on the UK to legislate immediately to end its contribution to global warming within 30 years.
Carolyn Fairbairn, Director-General, CBI said: "Business stands squarely behind the ambition for the UK to have a net zero emissions economy by 2050 and build on our global leadership in cutting greenhouse gas emissions. Immediate and decisive action is needed to avoid the catastrophic impacts of climate change, and create opportunities in low carbon technologies.
"However, it is critical that when setting a net-zero target, the Government works with businesses and the public to make the changes they need to deliver this. Businesses are already helping to lead the way, and clear and aligned roadmaps are needed for the sectors that face the toughest challenge in achieving this target. The CBI has previously called for cross-Government consensus on the transition that includes those businesses that are fundamental to delivering net-zero emissions and this should be pursued once a target has been established."
Eliot Whittington, Director, The Prince of Wales's Corporate Leaders Group (CLG) said: "Changes in the power sector have already shown how the UK has built strong foundations for a new zero-carbon economy, and in doing so won huge benefits, such as cleaner air, and the establishment of a global lead in the offshore wind industry.
"Committing to a 2050 net-zero goal will sound the starting gun for the next wave of innovation and investment, sending a clear signal to business and investors that they should plan for a zero-carbon future, and work to position the UK at the heart of the new industries that will be created as the world steps up its response to climate change."
Peter Simpson, CEO, Anglian Water: "We have committed ourselves to even greater reductions and recently the whole of the UK water industry agreed to achieve net-zero carbon emissions by 2030. This experience has convinced us that more ambitious national targets are not only essential but they are also good for business."
Leendert den Hollander, Vice President & General Manager, Coca-Cola European Partners said: "As a business with significant operations in Great Britain we're already investing in the transition to a low-carbon future. We have reduced the carbon impact of our core operations by 62% since 2010 but we know there is much more to do across all of society. A clear sense of direction from the Government's policies on climate change is vital to allow everyone in business to plan for a zero-carbon future. That's why we would encourage the Government to bring forward a target for net-zero greenhouse gas emissions in Great Britain by 2050 at the latest." 
Julie Hirigoyen, chief executive at UKGBC said: "The writing's on the wall for business and policymakers alike: the time for climate action is now. This letter demonstrates that the climate crisis is rising to the top of boardroom agendas by the sheer number of business heavyweights calling for Government to legislate for a net zero carbon UK. No doubt many of these leaders recognise the growing opportunities of transforming their businesses for a net zero carbon economy. Given that the built environment contributes around 40% of the UK's total carbon footprint, this is particularly true of the construction and property industry, so we're delighted to see so many of our members as signatories on this letter."
Signatories
Since sending the letter, six additional signatories have been added.
Keith Skeoch, CEO, Aberdeen Standard
Pauline Walsh, CEO, Affinity Water
Alistair McAuley, Managing Director UK&I, AkzoNobel
Nick Molho, Executive Director, Aldersgate Group
Joanna Bacon, Partner, Allies and Morrison
Andy Milner, CEO, Amey
Peter Simpson, CEO, Anglian Water
Stuart McLachlan, CEO, Anthesis Group
David Partridge, Managing Partner, Argent (Property Development) Services LLP
Manfred Rudhart, CEO, Arriva
Dervilla Mitchell, CBE, Chair UK, India, Middle East and Africa, Arup
Patrick Bellew, Principal, Atelier Ten
Charles Kirwan Taylor, Chairman, Atlas Infrastructure
Jason Sibthorpe, Principal and President U.K., Avison Young
Maurice Tulloch, Group CEO, Aviva
Steven Boyes, CEO, Barratt Developments Plc
Rab Bennetts, OBE, Director, Bennetts Associates Architects
Amanda Mackenzie OBE, CEO, BITC
Steve Burr, Director, Black Architecture
Melanie Leech, Chief Executive, BPF
Caroline Rush, Chief Executive, British Fashion Council
Chris Grigg, Chief Executive, The British Land Company PLC
Denise Le Gal, Chair, Brunel Pension Partnership
Chris Oglesby, CEO, Bruntwood
Andy Wales, Chief Digital Impact and Sustainability Officer, BT Group
Hayden Wood, CEO & Co-founder, Bulb
Neil Squibbs, Chief Executive Officer, BuroHappold Engineering
Gerry Keaney, CEO, BVRLA
Paul Lewis, CEO, Carbon Credentials
Carolyn Fairbairn, Director General, CBI
Steve Timbs, Executive Director, Head of UK Building Consultancy, CBRE
Paul Dickinson, Executive Chair, CDP
Richard Hookway, CEO, Centrica Business
Ray Upjohn, Chief Executive, chapmanbdsp
Andrew Brown, CEO, Church Commissioners for England
Leendert den Hollander, Vice President and General Manager, Coca-Cola European Partners
Dougie Sutherland, CEO, Cory Riverside Energy
Azos L. Rashid, Board Director, Crowd2Fund
Tomás Neeson, Managing Partner, Cundall
Will Gardiner, CEO, Drax
Edward Collins, CEO, Earth Capital
Mark Chadwick, CEO, EcoAct
Peter Madden, OBE, Founder Director, Ecovivid
Simone Rossi, CEO, EDF Energy
Lindsley Ruth, UK CEO, Electrocomponents
Doug Kerr, Managing Director, Elementa
Lawrence Slade, CEO, Energy UK
Nicola Lovett, CEO, UK & Ireland, Engie
Emma Howard Boyd, Chair, and Chair of the Investment Sub Committee of the Environment Agency Pension Fund, Environment Agency
Richard Speak, Founder Director, Environmental Finance
Chris Sheppard, Group CEO, European Metal Recycling EMR
Richard Poole, Managing Partner, Fluxx
Basil Demeroutis, Managing Partner, FORE
Andy Steele, Group Chief Executive, Geoffrey Osborne Limited
Joost Bergsma, CEO, Glennmont Partners
Patrick Caiger Smith, CEO, Green Energy Options
Craig McWilliam, CEO, Grosvenor Britain and Ireland
Jon Fisher, CEO, GRS Group
Ben Spencer, Managing Director, GS8
Simon Willis, CEO, Hanson UK
John Holland-Kaye, CEO, Heathrow Airport Limited
Saker Nusseibeh, CEO, Hermes Investment Management
Jon Lovell & Miles Keeping, Co-Founders, Hillbreak
Gary Tucker, Managing Partner, Hoare Lea LLP
Dean Drinkwater, Managing Director, Hutchinson Engineering
Steve Sharratt OBE, CEO, IBMS
Richard Walker, Managing Director, Iceland Foods Group
Chris Brown, Executive Chair, Igloo
Stephanie Pfeifer, CEO, IIGCC
Douglas Lamont, CEO, innocent drinks
Nigel Stansfield, President, Interface EAAA
Adam Balon, Co-Founder, JamJar Investments & innocent smoothies
Andrew Renshaw, Lead Director, UK Valuation & Professional Advisory, and UK Board Sustainability Sponsor, JLL
Nick Lakin, Group Director of Corporate Affairs, Kingfisher plc
Melanie Richards, Deputy Chair, KPMG UK
Nigel Wilson, CEO, Legal & General
Dan Labbad, CEO, Lendlease Europe
John Vincent, CEO & Co-Founder, LEON
Peter Rogers, Founding Partner, Lipton Rogers Developments LLP
Roy Bedlow, CEO and Founder, Low Carbon
Chris Harrop OBE, Group Marketing and Sustainability Director, Marshalls
Rob Lambe, Managing Director, Melius Homes
Julian Brown, Vice-President & UK Country Manager, MHI Vestas Offshore Wind
Deane Flint, Branch President, MEU-UK & IRE, Mitsubishi Electric, Living Environmental Systems UK
Keith Howells, Chair, Mott MacDonald Limited
Ashley Muldoon, CEO, Multiplex Construction Europe Limited
John Pettigrew, CEO, National Grid
Julia Szajdzicka, Managing Director, ND Metering Solutions
Stefano Agostini, CEO, Nestlé UK & Ireland
Tom Greatrex, CEO, Nuclear Industry Association
Matthew Wright, Managing Director, Ørsted UK
Fiona Reynolds, CEO, Principles for Responsible Investment
Andrew Ralston, CEO and Co-founder, Pure Planet
Mathew Riley, UK Managing Director, Ramboll UK Limited
Adam Starr, Managing Director, Redevco UK Ltd
Ivor Catto, CEO, RES
Justin Francis, CEO & Founder, Responsible Travel
Benjamin Derbyshire, President, RIBA
Sarah Merrick, CEO and Founder, Ripple Energy
Mike Coupe, Chief Executive Officer, Sainsbury's Supermarkets Ltd
Mike Hughes, President, UK & Ireland, Schneider Electric
Keith Anderson, CEO, ScottishPower
Claire Mack, CEO, Scottish Renewables
Liv Garfield, CEO, Severn Trent Plc
David Sleath, CEO, SEGRO
Sinead Lynch, Country Chair, Shell UK
Alan Shingler, Chairman, Sheppard Robson
Juergen Maier, CEO, Siemens UK
João Pola, CEO, UK & Ireland, Signify
Nicola Stopps, CEO, Simply Sustainable
Paul Hamer, CEO, Sir Robert McAlpine Ltd
Gregor Craig, President & CEO, Skanska UK
Alistair Phillips-Davies, CEO, SSE
Diba Salam, Principal & Founder, StudioDS
David Palmer-Jones, CEO, SUEZ recycling and recovery UK
Alan Pemberton, Managing Partner, TFT
Ian Marchant, Executive Chairman, Thames Water
Halla Tómasdóttir, CEO, The B Team
Helen Clarkson, CEO, The Climate Group
Dame Alison Nimmo, DBE, CEO, The Crown Estate
Sir Charlie Mayfield, Partner & Chairman, the John Lewis Partnership
Eliot Whittington, Director, The Prince of Wales's Corporate Leaders Group
Bevis Watts, CEO, Triodos Bank UK
Peter Anderson, Managing Partner, Troup Bywaters + Anders
Julie Hirigoyen, CEO, UKGBC
Sebastian Munden, Executive Vice President and General Manager, UK & Ireland, Unilever
Steve Fraser, Chief Operating Officer, United Utilities
Josh Bayliss, CEO, Virgin Group
John Elkington, Founder, Volans
George Latham, Managing Partner, WHEB Group
Rick Willmott, Group Chief Executive, Willmott Dixon
Nigel Topping, CEO, We Mean Business
Frazer Mackay, UK Managing Director, Water, Energy and Industry, WSP
Ricardo Moreira, Managing Director, XCO2
---