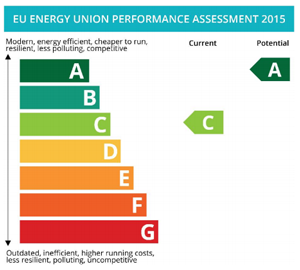 Brussels, 18 November – Last year, the European Commission launched the Energy Union as one of its 10 strategic priorities. The European Commission's Vice President Šefčovič recently completed an Energy Union tour of all 28 EU Member States and today he launched his ''State of the Energy Union'' communication. 
To mark this occasion and take stock of the progress so far, a briefing paper commissioned by the Cambridge Institute for Sustainability Leadership (CISL), the European Climate Foundation (ECF) and E3G assessed the EU Energy Union project one year on. 
"The EU Energy Union project is Europe's chance to stay competitive and secure in a changing world," says the briefing paper, EU Energy Union Assessment 2015: Towards a resilient energy union with a forward-looking climate policy. "If it succeeds, citizens across Europe stand to gain from more resilient, integrated, low carbon and cost-effective EU energy markets; new economic opportunities from digital innovation and resource efficiency; and a robust governance system that supports jobs and investment." 
On 18 November, CISL, ECF and E3G organised a briefing session with Vice-President Maroš Šefčovič. The discussion was chaired by Sandrine Dixson-Declève, Director of The Prince of Wales's Corporate Leaders Group (CLG) – whose secretariat is provided by CISL – and included MEP Morten Helveg Petersen, Rob Boogaard from CLG member Interface (where the Commissioner launched his Energy Union tour), E3G and WWF. The audience was limited to a small number of NGOs, think tanks and businesses.  
Connected to the Energy Union debate, CLG corporate members have been working on integrating decarbonisation into the core principles of the Union for the last two years and have recently written to the Commission to call for member state plans to include a clear 2050 decarbonisation perspective in line with the EU's long-term climate goals. Indicatively planning up to 2050 will help provide greater long-term clarity for companies to invest, scale up and innovate to deliver a cost effective decarbonisation of the European economy, whist driving jobs and growth across the EU. 
Sandrine Dixson-Declève, Director of The Prince of Wales's Corporate Leaders Group (CLG), said: 
"The Energy Union is a grand Marshall Plan steering us in terms of investments and business innovation. Progress has been made in establishing the direction of travel towards a resilient Energy Union with a forward-looking climate policy.  Further action is needed on clarity of investment signals into clean energy and away from fossil fuels, on integrating the energy and digital agendas and in transitioning out of polluting and inefficient coal power." 
The briefing paper recommends five steps for making the Energy Union work: 
Clarify when and how the EU plans to ratchet up delivery on greenhouse gas reduction, energy efficiency and renewables deployment.
Prioritise demand measures over new supply and reward flexibility.
Produce a European clean energy investment strategy.
Reset EU Energy Diplomacy Strategy after COP21 to recognise the new global energy and climate realities.
Avoid limiting the Energy Union to an energy and climate policy silo and see it as a core component across Europe's market, innovation and regional economic strategies.
Video: Together for the Energy Union