April 2018 – This report draws on insights and experience from 12 businesses who are members of the CLG and its close network and are involved in energy-efficiency renovation of buildings. It highlights the importance of renovating EU homes at scale in order to deliver on the Paris Agreement and take advantage of the associated economic opportunities, and identifies the current barriers to a higher renovation rate as well as promising schemes and experimentations across the EU. It puts forward recommendations for EU Member States and local governments to address these barriers and make the most of this opportunity.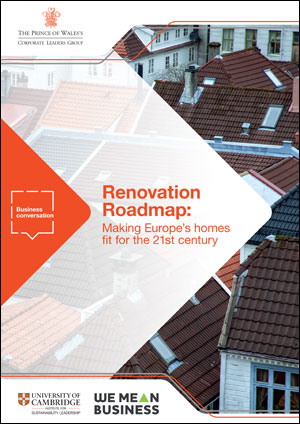 About
Buildings are responsible for 40% of energy consumption and 36% of CO2 emissions in the EU. The quality of the buildings impacts directly on the physical and mental health of occupants. It is estimated that 11% of Europe's population experiences energy poverty as a direct consequence of poor building quality, especially thermal efficiency.
In the context of targets adopted under the Paris Agreement, it is widely recognised that the rate of building renovation needs to increase significantly. While this presents many challenges, it also presents significant opportunities to create jobs and improve the skills of the workforce in Europe. But in order to realise these opportunities, the EU needs to do more to ensure that its long-term policy regime is up to the challenge.
This report from The Prince of Wales's Corporate Leaders Group highlights the scale of the challenge in the EU and draws on the experience of twelve European businesses to show promising examples of how different obstacles to a higher renovation rate can be address. Based on these insights, it formulates recommendations for EU Member States and local governments where the opportunity of taking forward the building renovation agenda currently lies.
The report is part of a series of business briefings and aims at stimulating policy debate and leading positive change amongst politicians, policy-makers and businesses who all have an important role to play in the large scale improvement required in energy efficiency in buildings.
Below is a summary of the recommendations:
To meet climate change targets, building energy renovation needs to achieve its potential. Member State governments should legislate for the renovation of buildings at key trigger points, and to a minimum performance standard.
This should be in the context of robust, long-term national renovation strategies which provide certainty for investment by business and property owners.
Member State governments should also be providing guarantee funds to bring down the cost of green finance for renovations.
Renovations need skilled, accredited tradespeople who can coordinate complex projects and meet high quality standards.
Property owners need independent advice and support, so that renovations are financed and renovated buildings are fit for the future.
Participants
The report is based on interviews with senior representatives of the following companies: 
3M, ACCIONA, Anglian Water, DSM, EDF, Iberdrola, Interface, Lloyds Banking Group, Philips Lighting, ROCKWOOL Group, Stora Enso, UTC.
Citing this report
Please refer to this publication as University of Cambridge Institute for Sustainability Leadership (CISL). (2018). Renovation roadmap: Making Europe's homes fit for the 21st century, Cambridge, UK: The Prince of Wales's Corporate Leaders Group.